A regular use of your silverware, as well as putting it away after use in the covers provided on purchase will delay the effects of oxidation.
Before it is first used, we recommend that you wash your cutlery by hand in soapy water before it is first used, and then wipe it immediately with a clean dry soft cloth.
Silver gilt cutlery must be washed by hand and dried immediately afterwards, after each use.
You can then wash your silverware in a dishwasher, provided you follow these simple instructions :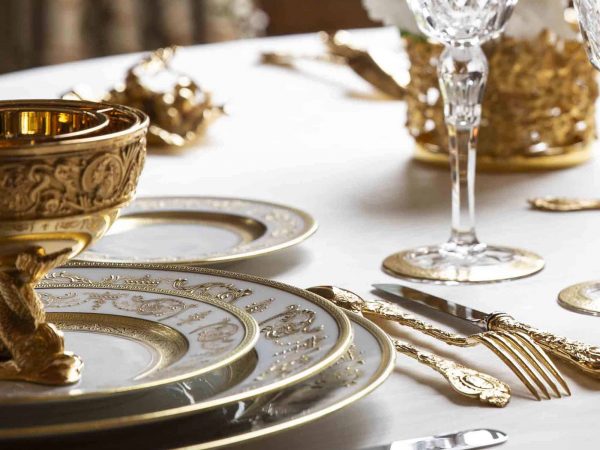 If the dishwasher does not start immediately, rinse the cutlery which has been in contact with acid food such as eggs, vinaigrette, lemon, fruit…
Use powder detergent, never liquid.
Wash silver cutlery separately from other cutlery or other metal articles.
Separate the knives from the other cutlery in the basket, with the blades facing upwards in the basket.
As soon as the washing cycle is over, open the dishwasher door to let the steam out to prevent stains forming on the knife blades.
Apart from washing, a good clean with silver cleaning products twice a year is amply sufficient.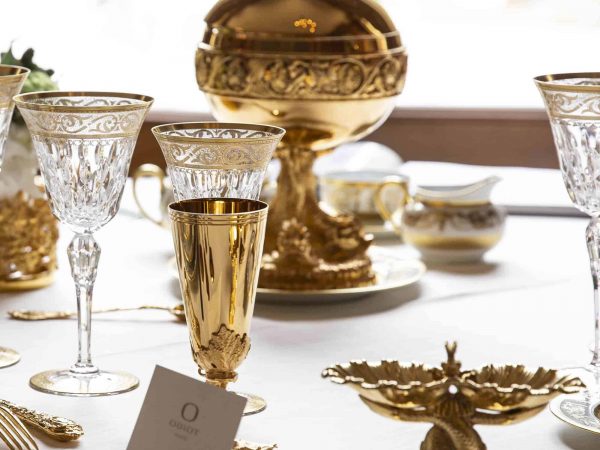 Our pieces made in sterling silver, vermeil or bronze should be regularly dusted with a soft cloth. It is better to keep these pieces away from any moisture or heating source.
Over time our pieces will acquire a natural patina. To extend or revive the brightness of your hollowware we advise to apply a silver polish on pieces made in sterling silver or silver plated bronze, or another one specially adapted to gold or vermeil on pieces made in vermeil or gold plated bronze.
Do not use silver polish on vermeil pieces.
Our pieces have not originally been designed for dismantling. Our craftpersons team will take care of any repair if necessary.